Culture of Participation - Warsaw 17-19 November
2016-10-07

Culture of Participation is a practical platform for artists, architects, cultural managers, educators, social and human rights activists, and local government leaders who use their talents, passion and experience to create conditions for a positive change.



Culture of Participation
Working Conference & Book
Introduction
Culture of Participation
is a practical platform for artists, architects, cultural managers, educators, social and human rights activists, and local government leaders who use their talents, passion and experience to create conditions for a positive change.
The idea of the Conference emerged after 12 years of
Transkaukazja
, the only international program and festival inspired by the unique cultural space of contemporary Caucasus.
While one of the main goals of the Conference is to sum up and share the experience of
Transkaukazja
, we would like to go beyond this. Namely, we seek to show how local bottom-up initiatives with little resources can indeed make a positive change in an innovative manner in most "unexpected places" on Earth. We also want to demonstrate that such projects can and should become a source of knowledge and inspiration for others in Poland and Western countries, thus challenging the common assumption that all good ideas originate in the West.
The Program


17 November
10.30 - creating the Bazaar, the Multicultural Center in Warsaw (CWW)
19.00 - opening of the Bazaar to the public (
event on Facebook
)
18. November
10.00 - 18.00 - work in groups, CWW, Dzika Strona Wisły, North Praga Public Library, Warsaw ZOO (all the venues are located at Hallera square)
19 November
10.00 - 12.00 - work in groups
12.30 - 16.30 - wrap up session, CWW

A detailed program is below:


17 November, Thursday - Do-It-Yourself Bazaar
The participatory spirit of our Conference means that it will not be organized in a regular format with presentations and panel debates. Instead, it will take form of a Do-It-Yourself Bazaar, a fair of initiatives and ideas. Participants will get to use the ready-made elements however they like to construct their stands and present the activities conducted by them and/or their organizations. This joint activity can help integrate participants and let them exchange ideas and working methods already at the first stage of the Conference. In the evening there will be a guided tour through the Bazaar for the public.
A film about the creation of One Caucasus Town.
A Not Perfect Town of Our Dreams
, as we call it, is created every year by international volunteers of the One Caucasus Festival (including architects) and local communities of the multi-ethnic region of Marneuli.
18-19 November, Friday-Saturday, Working groups and a sum up session

During these two days, thematic working groups of 5-15 persons will work in a unique atmosphere benefiting from each others' ideas as well as trainings, presentations and workshops adapted to the needs of participants. The common elements for all groups' work will be
interdisciplinary approach and impact on local change.
Each group will prepare a "product" related to their topic, for example, an interdisciplinary model for informal education of refugee children or visualization of an architectural concept. We also expect the groups to come up with both scenarios of actions for local governments to foster initiatives in the field and calls for actions or requests and recommendations for other groups.
The final list of groups' topics will be adjusted to the profiles and interests of the selected participants. Pre-selected group topics include:
social / participatory architecture +

education +

contemporary art +

participatory budgets / processes +

work with migrants and minorities +
human rights / advocacy +

music-creating +

to be added after the recruitment of participants
Each group will have a
Facilitator
who will provide support for the group
before and during the Conference
as well as help collect the most important
results of the group's work
. At the end of the second day we will gather for a wrap-up session for 10-minute presentations of the working groups. The session will include speech of Adam Michnik "From Culture of Protest to Culture of Participation".
The Conference will be preceded by the workshops and working meetings focusing on participatory budgeting and planning organized for the leaders of participatory budgets in Georgia, Moldova and Ukraine (15-16 November).

The venue

The main venue of the Conference will be the Multicultural Center of Warsaw – a place designed to be used by representatives of different cultures, local organizations and public institutions: a great example of cross-sector cooperation and participatory planning involving dozen of NGOs and the Warsaw City Hall.
Other venues, such as a local library and
kluboteatr
"Dzika Strona Wisly" [theatre-club "Wild Side of Wisła"], are partner institutions in the neighborhood of the Multicutlural Center. All these venues are located around Haller square in Nowa Praga [New Praga], one of the most intriguing and unusual districts of Warsaw.

Participants
The Conference will bring together experts and practitioners from at least 14 countries of the European Union, Eastern Partnership, North Africa, and Americas.
Some of the confirmed participants are:
Anna Czaban (Poland) – curator of contemporary art, works at Department of Community Oriented Projects in Center of Contemporary Art - Ujazdowski Castle in Warsaw, initiator and curator of many interdisciplinary projects and art exhibitions, co-editor of comprehensive book about curatorial practices in Poland.
Carol Daniel (Trinidad and Tobago) – social and human rights activist, the founder of a cross-region bottom-up-organized NGO Caribbean Development Foundation, initiator of advocacy campaigns across the region related to civic society and women's rights.
Joanna Erbel (Poland) – sociologist, social activist, urban researcher and policy-maker, a former candidate for Mayor of Warsaw.

Alexandra Khalepa (Ukraine) architect, urbanist, scientist, facilitator, expert in the field of cultural heritage. Postgraduate student at the Institute of Contemporary Art in Ukraine, project coordinator at KievUrbanLab.
Urszula Majewska (Poland) – former deputy director of Warsaw Social Communication Center (responsible for participatory processes in the city), coordinator and expert in international projects related to participatory processes and projects.

Mohamed Refai (Tunisia) – architect, designer, filmmaker and social activist, former prisoner-of-conscience.
Lude Reno (Martinique) – film-maker and educator, initiator of education-through-filmmaking initiatives in Burma, Georgia, Mexico, Poland, Tunisia and many other places.
Rick Roth (USA) – human rights activist, the founder of the legendary Amnesty International USA Group 133 (Cambridge, MA), initiator of the Get On The Bus campaign.
Tom Russotti (USA) – artist and educator who explores the aesthetic and performative nature of large cultural phenomena such as sports, signs, and organizations.
Pako Sarr (Senegal) – composer, vocalist, multi-instrumentalist, author of many international, interdisciplinary based-on-music initiatives.
Armine Shahbazyan (Armenia) – architect and designer; participated in Urban Heritage Assessment Project of Shoushi town on the measurements of about 200 historical buildings, Project Coordinator at Urbanlab.am, a Yerevan-based urban "think & do tank".
Merab Topchishvili (Georgia) – the leader of Marneuli municipality - a region in Georgia at the borer with Armenia and Azerbaijan), home of One Caucasus Festival and the first full-scale participatory budget in Caucasus.
Chemtai Yegon (Kenya) – English teacher, social activist, author of educational initiatives for the youth from Georgian countryside.

A film about the first participatory budget and planning in Caucasus. One of the working groups at the Conference will work on this topic with the pioneers of participatory budget from Georgia, Ukraine and Moldova.
The Book
The Conference will be accompanied by the publication of the book "Everyday Utopias" (working title). The format of the book will combine high profile interdisciplinary art book with a practical guide for activists, educators and local decision-makers. The book will be partly based on the content created specially for the Conference. It will be divided into the three main parts:
Collection of texts and stories in various formats: reportage, art work, photo-reportage, comic book story, scientific article of interdisciplinary approach – highlighting the topics and specific cases related to the Conference;
Illustrated interviews with the participants of the Conference – presenting some of the most inspiring local initiatives across the globe;
Practical ready-to-implement step-by-step scenarios for activists, educators and local government leaders.
The Book will be published in 2,000 copies in English both for international sale and for free-of-charge distribution among various institutions across the region.
Follow us on
Facebook
to stay updated!
=====
The project is co-funded by:
the Warsaw City Hall,
"Region in Transition" Program (RITA) implemented by the Education for Democracy Foundation and funded by Polish-American Freedom Foundation,
"Support for Democracy" Program of Solidarity Fund PL financed within the framework of the Polish Development Cooperation Program of the Ministry of Foreign Affairs of the Republic of Poland.
Home page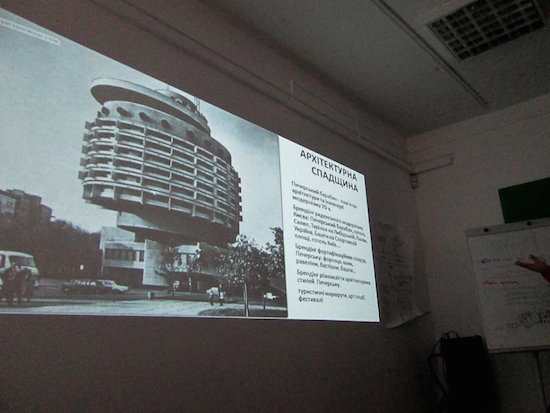 Hotel Salute is a part of the Kiev neglected heritage that could be an asset for the promotion of the city. The picture was taken during a participatory workshop Planning the Change of Pecherska sq.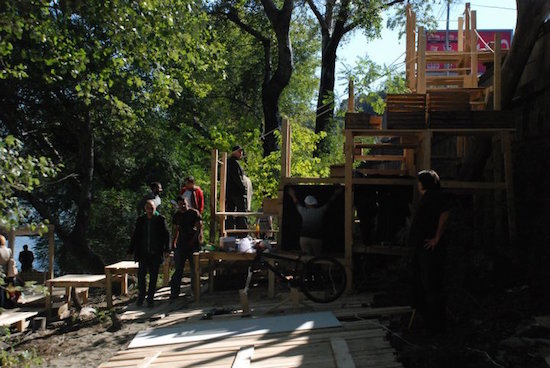 River to River was an international art project on the riverbank of Mtkvari river in Tbilisi. Polish architect A.Wasilkowska built a temporary staircase to the riverside opening up a new public space.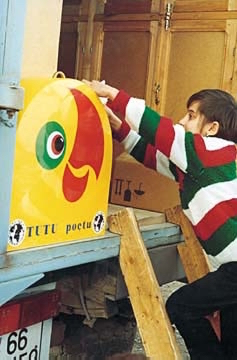 Tutu Post Office was a unique bottom-up initiative. IDP children at risk of illiteracy in Baku wrote their first letter to Tutu (Azeri: parrot) and received replies. More than 700 kids participated.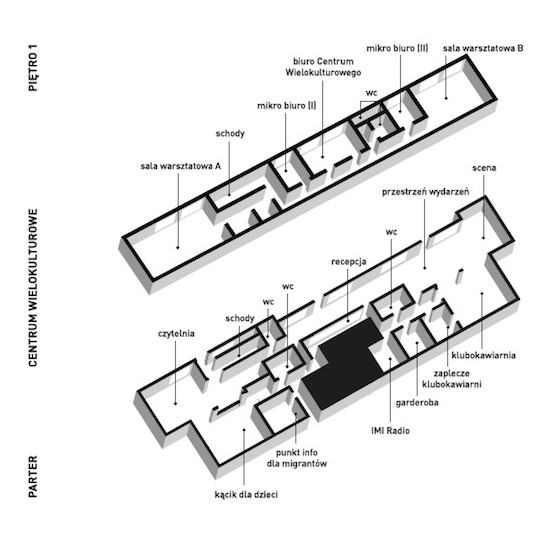 Almost 600m2, the 2-floor space of the Multicultural Center was planned in a participatory format by 19 NGOs and several municipality units. Nearly the whole space is designed for public use.
Participants of a cross-sectoral planning for the Warsaw Program for Reception and Integration of Refugees - activists, educators, leaders of informal movements and City Hall representatives.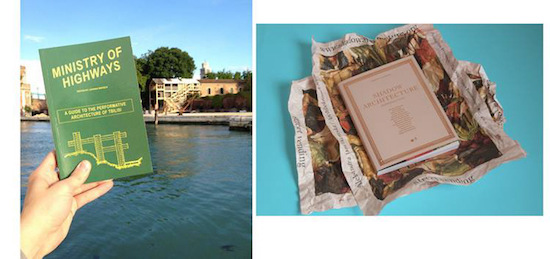 Our books: Ministry of Highways featured on Designers&Books among 10 books about design in 2013. Shadow Architecture was recognized as one of 15 most interesting Polish graphic projects of 2012/13.